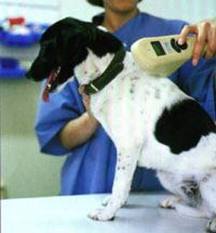 The Dogs Trust charity has hailed the Government's decision to introduce compulsory microchipping for all dogs as a watershed for dog welfare - saying it's proven to be the most effective way of ensuring lost dogs are returned to their owners.
The compulsory permanent identification of all dogs means that more dogs found lost or straying can be returned to their owners and in a timelier manner. UK local authorities were unable to return over half (52%) of stray dogs in 2010/11, a total of 65,612 dogs, because they were unidentifiable. We believe compulsory microchipping will help reduce the burden on animal welfare charities such as Dogs Trust and reduce the cost to local authorities of kennelling, which could save the public purse approximately anywhere between £20.5 and £22.8 million per year.
Welcoming the Government's announcement, Dogs Trust CEO Clarissa Baldwin OBE said:
"For many years Dogs Trust has led the campaign for the introduction of compulsory microchipping and we applaud the decision the Government has taken which represents a hugely significant and progressive breakthrough for dog welfare.
"As the UK's largest welfare charity, reducing the UK's stray dog population is at the very heart of what we do which is why we have committed a considerable amount of money to ensure no dog owners will lack the financial ability to microchip their dog. Currently, microchipping involves a minimal one-off cost, but the benefits last a life-time.
"The reality is that no matter how responsible an owner you are there is a chance your dog could get lost or stolen – microchipping is the most effective way to assist in a lost dog being returned to their owner. Whether it's an abandoned stray or much loved family pet, there is no such thing as hierarchy in dog pounds."
Today's announcement on microchipping has come as part of a wider package of dog control measures which Dogs Trust does not believe go far enough to tackle the many issues surrounding irresponsible dog ownership, least of all dangerous dogs. Dogs Trust has long campaigned for the repeal of breed specific legislation and believes that until a fundamental overhaul of dog legislation is undertaken, including provisions for preventative measures, dog control problems in this country will remain.