Pet Sitting & Dog Walking App
NarpsUK has developed an app to run alongside our inclusive Pet Sitting Software to allow you to create and manage your bookings on your smartphone or tablet. If you already run a Pet Sitting or Dog Walking Business, you will be aware of how quickly the admin side of your business can build up and the amount of paperwork for clients, bookings, schedules, etc. The database and app access are available FREE with our full membership package. Our Pet Sitting Software makes running your business EASY.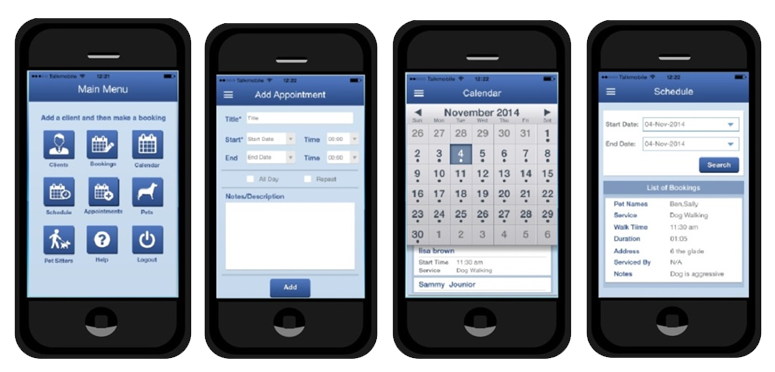 Easy to manage from a desktop computer or your mobile device, diaries can be accessed, amended and printed to suit your needs showing a daily, weekly or monthly schedule. The time saved in using the software can then be used to make your business more profitable by allowing you more time to service clients. The software is suitable for Home Barding, Dog and Cat Sitting, Dog Walking, Dog Day Care, Pop-In Services and Pet Grooming Businesses.
All data is synchronised between the app and your online database so any bookings or clients need only to be input once. There is also an option to add appointments such as new client meets or appointments. All of this is also linked to our client invoicing system - allowing you to send your invoice at the push of a button!
Once you try out our app, you will not want to run your business without it!
Just click the below for details of how to get your 14 day free trial!
Click Here
Efficiency at Your Fingertips
As a seasoned Pet Sitting or Dog Walking Business owner, you're well aware of the administrative challenges that can quickly accumulate from client records to booking details and schedules. Our app, available with our full membership package, offers a seamless solution. It integrates with our Pet Sitting Software, making the management of your business a breeze.
Streamlined Business Management
Our software simplifies administrative tasks by providing a suite of features that allow you to:
Client Details: Keep track of your clients' information effortlessly, ensuring personalised and attentive service.
Pet Profiles: Store vital pet details, guaranteeing you always know how to care for your furry clients.
Booking and Services Management: Create, edit, and oversee bookings and services, streamlining your workload.
Scheduling and Diary System: Stay organised and on top of your appointments with our intuitive schedule and diary system.
Accessible Anywhere, Anytime
Whether you prefer managing your business from a desktop computer or on the go from your mobile device, our app is tailored to suit your needs. Access, modify, and print diaries to fit your schedule, whether it's a daily, weekly, or monthly overview. The time saved through our software can be reinvested into serving your clients better, ultimately increasing your profitability. Our software is adaptable for various pet care businesses, including Home Boarding, Dog and Cat Sitting, Dog Walking, Dog Day Care, Pop-In Services, and Pet Grooming.
Seamless Data Synchronisation
Say goodbye to the hassle of entering the same data multiple times. Our app ensures all data is synchronised with your online database. This means that any new bookings or client information only needs to be input once, reducing redundancy and saving you valuable time. Moreover, our app effortlessly links with our client invoicing system, enabling you to send invoices at the push of a button.
Discover a New Level of Efficiency
Once you experience the convenience and efficiency of our Pet Sitting & Dog Walking App, you won't want to run your pet care business without it. Embrace the future of pet service management and enhance your business with NarpsUK.
Make the smart choice today and embrace the power of our Pet Sitting & Dog Walking App. It's not just about running your business it's about running it efficiently and effortlessly.