This month we talked to Rebecca and Wayne who run Walk N' Roll. Originally based in Belfast they moved to Cardiff and are now full time pet-sitters. Read more below:
What made you decide to leave your full time jobs to go into pet sitting?
It simply felt right. We had both followed an academic route, qualified as teachers and subsequently embarked on training careers. Whilst our careers offered us many opportunities and taught us invaluable skills, we reached a point where they no longer fulfilled us. We had all the trappings, the lovely apartment, two cars, a holiday once a year but it wasn't right for us. I had been working for an enterprise agency delivering business training to school children and it came to the point where I needed to practice what I was preaching. We are both animal lovers and dreamed of spending our days working with them. So the business knowledge and animal passion married together led to the obvious conclusion of setting up our own animal focused business. When setting up any business you have to expect a significant dip in earnings, to start, but considering how we now spend our days, we both feel our standard of living has actually improved!
Did you have any previous experience of pet sitting?
Most of our experience came from caring for our own pet, Dita, a Jack Russell Terrier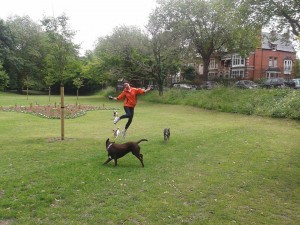 we rescued from the local animal shelter. We also cared for family pets while growing up. As animal owners ourselves, we have not only learned the necessary skills for animal care, but also developed that all important empathy. We know it can be worrying to let someone you don't initially know come into your home and look after your beloved pet. Understanding this helps us to put our clients at ease. Through our membership with NarpsUK, we are learning more every day about the business side of things. It's wonderful to have the opportunity to network with people in the same industry.
What prompted the move from Belfast to Cardiff?
The million dollar question, to which we don't have an exact answer. Whilst Belfast is an exciting and vibrant city, we had both lived there since being students and felt we needed new pastures to explore. We enjoyed a great weekend in Cardiff, appreciated its proximity to London, and so decided to research it as an option. We took a trip over to explore all the areas and fell in love with Roath. Two years on and we are still in love!.
What's been the hardest moment?
Waiting for the phone to ring! We had the website good to go, our clothing branded and our bags packed but that didn't mean anyone knew about us. We were also working part-time and that was quite difficult; we had to juggle initial bookings around shifts in our respective jobs. Then came the decision to make the leap into the role full-time. We paced ourselves with me leaving work first and growing the business until it reached the stage where Wayne needed to come on-board as well. We have worked really hard and are now thrilled to both be working full-time with Walk N' Roll.
How did you build up a new client base in Cardiff?
Slowly but surely. Using all the usual suspects: website, flyer drops, Facebook, twitter, posters in local shops and networking in local parks. Each offered their own leads. Initially the website proved the most successful way of gaining new business but we rebranded all our work clothing adding DOG WALKER across the back in bold writing. This has helped us gain a lot of local business; people walk right up and ask for a business card.
What is your unique selling point for your business?
A client recently summarised it for us in saying that we offer a bespoke service. We are the only two people in the business: Walk n' Roll is not a franchise. We come out, personally, and meet prospective clients and their pets, taking lots of notes on their pets and the service they need. We pick our dogs up on foot and do not use a van. We limit ourselves to three dogs each thus ensuring excellent supervision and engagement. If we can we will keep the dog out for longer than booked, meeting up with each other to offer the dogs an opportunity to play and socialise with each other. At times, one hour walks become 2 or 2½ hours with no extra charge to the client. We would rather be out with dogs than inside.
Where do you see yourselves in pet sitting in 5 years time?
We have plans to expand the range of services we offer. Our big goal is to buy a property here and offer home boarding and doggie day care. We would also like to train in complimentary services such as grooming and animal massage.