This month we got the chance to catch up with Antonet Verschuren who runs West London Petsitter. Read Antonet's interview below and find out how she got into business.
What drove you to start your business? – was it a lifelong dream to run your own business / were you wanting to try something new / or was it the love of animals?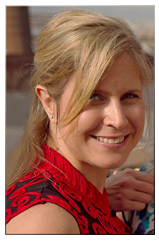 I grew up in the Southern Hemisphere surrounded by a mini zoo of pets – not to mention the incredible wildlife simply in our back garden or encountered in wildlife reserves.
So naturally since early childhood, the only thing I dreamed of was running a business in the pet care industry.
Somewhere along the line, that vision was slightly side-tracked by extensively globetrotting. But I eventually settled in London to study veterinary nursing and start my working career with animals.
Unfortunately I underestimated just how difficult it would be to live a non-student-like lifestyle, based on the income of a veterinary nurse (especially as I was no longer a teenager as most of my working peers were). So I was side-tracked even further with a switch to a career in IT & finance. However, I always still missed my work with animals.
Even though I worked as a volunteer at the RSPCA in Potters Bar on weekends, it wasn't quite enough. So I eventually returned to animal care by working part time (alongside my full time City job) with an agency specialising in veterinary pet care in a home care situation, when the owners go away on business or holiday.
Though I enjoyed this to begin with, I eventually felt frustrated by the level of control & speed I had in the client communication. As well as the varying levels of professional care offered by other self-employed pet carers via the agency. In time, I strongly felt that I wanted to create a much more bespoke & personal service offering for both the owners & their pets.
I finally realised that the only way that I could truly offer the level of service & care that I envisage and aspire to, was by starting and running my own bespoke pet care business.
What was your biggest challenge when setting up?
I had neither the budget to have a website created for me, nor the knowledge to create one myself.
However going from resigning from my agency work the one day, to having no income the next, was the biggest motivation to create my website.
I had no choice but to learn extremely quickly and as I went along – yet little did I know just how much I was to learn throughout the process. In hindsight, I completely underestimated just how time consuming the setup project would be.
In my optimistic ignorance I thought it might take a couple of days – how very wrong I was! The initial setup project took at least a solid two weeks of work and research, including learning how to build a website and the basics of SEO. It took at least a further month to finally take the shape I had in mind – despite all that hard work and sleepless nights, it's still a work in progress.
How did you get your first customer? - did you advertise / word of mouth / friend
Was it a daunting experience?
My first customer came from a random phone call at 10am on an idle Friday morning. At first I thought it was a joke as the client (very jovially) explained that he lived on Harley Street, and asked if I could look after his "adoooorable" Yorkshire Terrier for the weekend. He casually mentioned that wanted to go to Paris on holiday…. that night!
Needless to say, I had a wonderful first client & booking. And I guess the little that I learnt about SEO in the previous 2 weeks did the job with the power of Google.
Did you manage to find out all the information you required and advice? What was missing?
Though I had a few friends who gave me business & creative advice (none of them in the pet care industry) I already knew what I could and wanted to offer. However also realised that I didn't have all the documentation to back up the business side of things and this is where NarpsUK came in.
The wealth of information & customer support available to members was invaluable in creating my own service offering. Before I had access to all the forms and information, I actually didn't realise just how much I hadn't thought about – so thank goodness I had fingertip access to all of the customisable documentation.
How did you find out about NarpsUK ?
I heard about NarpsUK via the agency I worked with at first.
What's been the biggest benefit of joining NarpsUK?
The wealth of information & documentation available to help set up my business. Supported by the friendly and efficient customer support.
What would you do differently if you were setting up in business again?
It's still early days so I have little to reflect upon. So far I'm more than pleased with how business has taken off and grown.
What advice would you give to other people who want to set up their own pet sitting business?
Join NarpsUK to get access to all the customisable forms and documentation. Not to mention the members forum where there are constant discussions and support that covers all aspects of setting up and running a pet care business.
Unless you have a start-up budget to pay for marketing advice, get as much advice as possible from any friends, acquaintances and relatives who have & run their own business.
Do not fall into the advertising trap – you will soon be swamped by salesmen from all angles trying to sell advertising space in magazines or online. Instead, list on as many free listing websites as possible and learn about SEO and how to market yourself.
Word of mouth is wonderful but that can take a really long time to get into full swing, depending on where you live. Be proactive and be prepared to work very hard on the admin and marketing side of things. You can't really expect people to just coming knocking on your door if you don't at least show them where your door is.
Do you have a website and logo?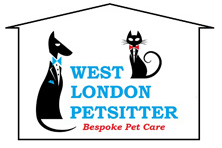 Yes. My website is www.westlondonpetsitter.co.uk
I decided that I needed a website name that is easy to remember and is self-explanatory. In a market with so many names, it's sometimes hard to remember something unless it's really easy to remember.
Not only that, but my business name automatically helps to support and boost my SEO efforts.
I knew that I needed a logo but yet again, didn't have the budget to have a bespoke logo created. Nor did I want to buy a mass market logo for the bespoke service that I wanted to offer.
Though I had a clear logo concept in mind, it wasn't until an illustrator friend of mine finally moulded it into the shape that it now has, that it took the shape of a real logo.
The Future
Within less than 10 weeks of starting up, I have been approached by London's top 5* boutique hotels to provide pet care services for their guests' pets.
I am incredibly excited about this new working relationship and cannot wait to see what else the future of my bespoke pet care business holds.